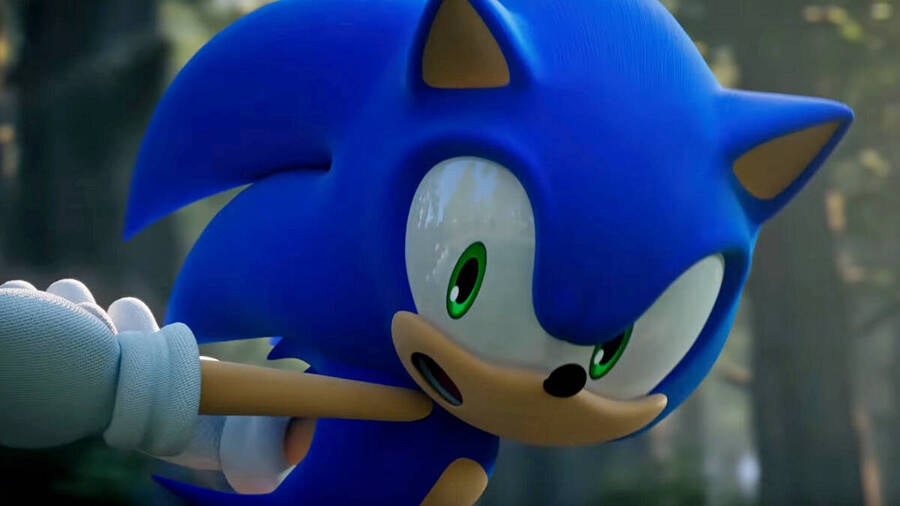 Happy 31st birthday to the blue blur! We've seen Sonic the Hedgehog change and evolve a lot over the years, and The next step on his journey – Sonic Limits – brings some of the franchise's biggest changes to date. But before we look ahead, let's look back today with the launch of Sonic Origins†
The compilation game hit consoles today, including Switch, and data miners have already dived into it to see what hidden gold nuggets they can find. And @ahremic on Twitter found some leftover files in Origins, but these aren't for any of the classic Sonic games, but rather Frontiers (thanks, Sonic Stadium and BlueStarEXSF to ResetEra†
These shaders indicate that the menus in Origins were created with tools for Frontiers, meaning that there are references to possible aspects of the next 3D Sonic game. Of course, these may not be part of the game now, so it's worth taking all of this with a grain of salt, but there's some pretty interesting stuff to see here – including the return of everyone's favorite frog-hunting cat.
@ahremic and a friend put all their finds in a Pastebin document here† Many files refer to completing missions, tutorials, and clearing levels, but we've selected some of the more interesting parts:
– FirstChaosEmeraldStrageOpen
– FirstChaosEmeraldStrageGet
– Chaos Emerald Got
– Kodama Elder First Talked
– KodamaHermitFirstTalked
– Fish caught
– New Fish Watched First
– PiscesBigFirstTalked
– UIKodamaTutorialViewed
– FishingSpotId
– GrowFlowerStartDay
Some of these are self-explanatory: Chaos Emerald stages are coming back, and Grow Flowers may indicate a new mode or just be a code for flower reappearance. But in this small amount of data we've unearthed, we think three key new details are worth delving into.
First, there are all the files that reference 'Kodama'. Kodama, in Japanese folklore, are spirits that live in trees (if you use Studio Ghibli's Princess Mononoke then you know). This could be a brand new character being introduced in Frontiers. And, well, from all the images we've seen, tree ghosts wouldn't look out of place in this strange new world.
The other two really should be discussed together, and if you've ever played Sonic Adventure then you know where this is going. "FishingBigFirstTalked" may refer to Big the Cat, the fish-loving cat who must save his best friend Froggy through a series of fishing mini-games. There are plenty of files here referring to fish, so that could well be coming to Frontiers. And if so, then it makes sense that Big would be there too. We know you all love him For real† Could be.
We'll say this again, of course: these files were found in Sonic Origins, so they may no longer be relevant to Frontiers, but it's indicative of what at least has been considered for the next 3D entry in the Sonic series. We'll have to wait and see if this turns out to be a good catch!
Sonic Origins launches on Switch today – find out what the game's critics thought in our round† Sonic Frontiers is currently scheduled for later this year.
What do you think of the datamine? Want to see Big the Cat return? Let us know in the usual place!